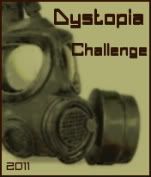 This will be the second challenge I'll particapate in this year. It's hosted by
BA Reading Challenges
. I'm going for the Contagion level (15 post-apocolaystic books). This will be a challenge, but I'll just read two a month or something like that ;)
Here are some of the books I'll probably read for this challenge.
Across the Universe by Beth Revis
Possession by Elana Johnson
Awaken by Katie Kacvinsky
Delirium by Lauren Oliver
Uglies by Scott Westerfield
The Forest of Hands and Teeth by Carrie Ryan
Birthmarked by Caragh M. O'Brien
Gone by Michal Grant
Incarceron by Catherine Fisher
Genesis by Bernard Beckett
The Line by Teri Hall
Inside Out by Maria V. Snyder
The Bar Code Tattoo by Suzanne Weyn
The Hollow People by Brian Keaney
Virtual War by Gloria Skurzynski
Wither by Lauren DeStanfano
Girl in the Arena by Lise Haines
It wasn't that hard to find fifteen (I would seventeen) for anyone having trouble just go to good reads and click on the "YA dystopia" list. I'm going to have fun with this challenge.