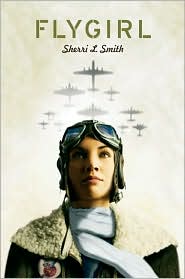 Flygirl by Sherri L. Smith
Publisher: Penguin
Pages: 271
Genre: Historical Fiction

All Ida Mae Jones wants to do is fly. Her daddy was a pilot, and years after his death she feels closest to him when she's in the air. But as a young black woman in 1940s Louisiana, she knows the sky is off limits to her, until America enters World War II, and the Army forms the WASP Women Airforce Service Pilots. Ida has a chance to fulfill her dream if she's willing to use her light skin to pass as a white girl. She wants to fly more than anything, but Ida soon learns that denying one's self and family is a heavy burden, and ultimately it's not what you do but who you are that's most important.
Sherri Smith is an amazing writer. All books should be written this way. All YA writing seems to be all suspense and no plot, all romance, and no realism. Sherri has given a us a book that is written write. Definitely worth reading.
Ida Mae Jones is so real. Since she's from the 1940's it's like hearing your grandma or great-grandma tell you a story of "when I was was your age" but in a way you can relate to. All of the other characters were strong as well. My favorite character was probably Lily or Thomas. Lily is one of Ida Mae's best friends. Lily has just been engaged and is planning on marrying her sweet heart after the war. She reminds me of myself because she has all this teenage energy in the beginning that goes away a bit as the war progresses, but comes back when ever she talks about her fiancee.
Thomas is Ida Mae's brother and he is like an African-American Peter Pevensie. He's studying to be a doctor and goes off to war straight after Pearl Harbor. Peter Pevensie is my all time favorite character so anything like him is amazing.
The plot went right along with WWII. all Ida Mae wants to do is fly. She makes me want to go take a piloting class. Her passion and uncertainty is what drives the plot forward, and it is also what creates conflict. You know it's real conflict when you can relate to it.
Sherri knew how to write suspense. it wasn't all fluff there was body to it. I had to keep reading to find out what's going to happen. What will Ida choose? The base of all good suspense. Sigh.
I love the historical fiction part of it; I really learned stuff (wow, I learned!).
Theme: Base your future off yourself. If you were born to do something you can't change that. What would happen if the President quit politics and became an author when he was born to be President? Nothing good for the country. The theme was good in a way that it called me to action. I wanted to go out and follow in Ida's footsteps.
Characters: 10
Plot: 9
Suspense: 9
Theme: 10
Pace: 10
Mood: 9
Overall: 9.5- life changing