This weeks topic is Top Ten Most Inspirational Characters. This meme is hosted by
The Broke and the Bookish
. This list is just in the order I thought of them.
Ponyboy from Outsiders- He goes through so much yet he's still the smartest in his family and he's a really deep kid. I don't think he's the best role model, but the way he is is enough inspiration.
Joy from 68 knots- She's a very spirtual person. So much so that her dream was to start a church. She kept the team on track with a few things on their boat trip, and is just a really nice person.
Lucy from Narnia- No explaination needed; she's just amazing.
Harry Potter- He defeated Voldemort. Nope I don't find that inspirational at all.
Aster from Just Another Girl- She takes care of her retarted sister 24/7, and she's very spirtual. She deserves the best -cuss- life God can give her.
Peeta form Hunger Games- He's the most compassionate out of all the characters, and he knows when things get tough you have to deal with it, you can't just die.
Aaron from The Enemy- when the zombie apocoalpyse turns everyone above sixteen into zombies he gets a group of kids together and organizes them so that they'll survive. I could only hope with crossed fingers I would act like that.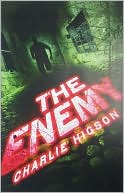 So I could only get seven, but anyway I'm sorry I didn't do Top Ten Tuesday last week. I couldn't think of anything for the topic. I'll post a review tomorrow so look for that.