So begins the blogging phenomenon of Meridian...
by Amber Kizer
Publisher: Delacorte Press
Pages: 305
Genre: Paranormal Romance
From: Barnes and Noble (bought for friend)
Synopsis:
Half-human, half-angel, Meridian Sozu has a dark responsibility.
Sixteen-year-old Meridian has been surrounded by death ever since she can remember. As a child, insects, mice, and salamanders would burrow into her bedclothes and die. At her elementary school, she was blamed for a classmate's tragic accident. And on her sixteenth birthday, a car crashes in front of her family home—and Meridian's body explodes in pain.
Before she can fully recover, Meridian is told that she's a danger to her family and hustled off to her great-aunt's house in Revelation, Colorado. It's there that she learns that she is a Fenestra—the half-angel, half-human link between the living and the dead. But Meridian and her sworn protector and love, Tens, face great danger from the Aternocti, a band of dark forces who capture vulnerable souls on the brink of death and cause chaos.
From Barnes and Noble.
This book was amazing, it had it all. I just picked it up at Barnes and Noble for my friend's Christmas present and started reading it to make sure she'd like it. I was immediately blown away by Meridian's personality. Then plunged into a strange world where every religion is explained, wolves are loyal companions, and pastors are evil with a movie star face. Each new scene holds answers to questions, new questions, and the perfect amount of foreshadowing to keep me turning the pages. With each new page Meridian and the characters around her grow and become 3-dimensional.
The background info on the Fenestra world is powerful, and provides a different point of view to the 'how do you explain all religions?' question that I've never thought of before.
When I read the author's bio and now while she would write with a particular scented candle that goes with the book and a particular mood of music. I though maybe that's why the book was so focused and perfectly paced. Including the relationship between Meridian and her protector Tens. The way they reacted to each other and slowly grew together was amazingly real, that it was refreshing to see an author who wasn't so obsessed with the romance of her novel that she forgot about everything else.
Did you know that people fear death above all else? I don't fear death and Amber doesn't want you to either. Her powerful message that things me misunderstand, we fear when they are really not bad things.
Watch out for this book it could very well be the next "Twilight" (as if it were good).
Characters- 10
Plot- 10
Suspense- 10
Theme- 10
Pace- 10
Mood- 10
Cover- 10
Overall- 10- A perfect book. I can't wait for the sequel.
Sequel: Wildcat Fireflies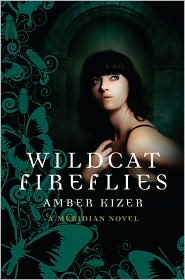 Pics from Barnes and Noble.com